Two things spring to mind when I think classic holiday dessert: pecan pie … and pumpkin pie. Both taste particularly good with a drizzle of our robust Limited Reserve  olive oil. It adds another layer of flavor. So, as an olive oil lover, I was psyched when I came across the reinvented pie featured here: a pecan tart with a crust made from olive oil – not butter. (Click here to see the recipe.)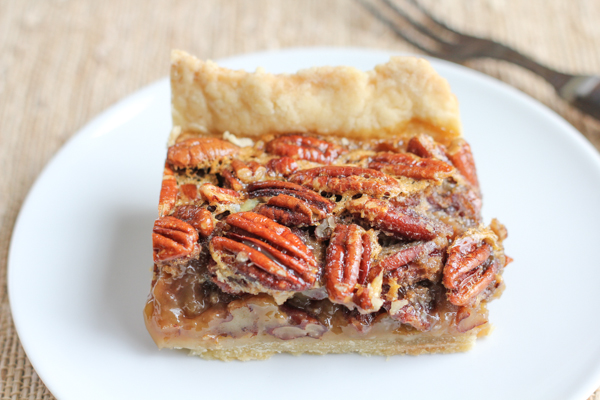 "I'm obsessed with olive oil pastry crust," food blogger Alice Choi says of the dessert she created for us. "I love the flavor, texture, taste, everything about it. And it works amazingly well in this pecan pie tart."
Choi also notes her husband – a big fan of pecan pie – loved the tart. "And when I told him there was absolutely no butter used at all, he didn't say a word. He just kept eating, and then said: 'This is good.'"
Our Everyday Fresh oil would be perfect for the crust, which is made with the oil, flour, sea salt and cold water. The ingredients are combined in a food processor, rolled into a ball, and placed in the refrigerator for 30 to 40 minutes before being rolled out. The crust is baked for about 15 minutes, until slightly browned.
The pecan-laced filling is poured into the tart, which bakes for about 35 minutes – or until the filling is set. (Click here to see the recipe.)
Choi recommends refrigerating the tart overnight to set the filling. "If serving immediately, be very careful when slicing. The filling will still be soft," she notes. "Even with the overnight refrigeration, there was still a little ooze when slicing. … No need to worry though. This can easily be taken care of, or licked up."
On that delicious note, my colleagues and I would like to wish you a Merry Christmas and a Happy New Year!
Bon appétit,
California Olive Ranch Master Miller Bob Singletary