One of my favorite pastimes is heading down to Mexico to fish. I enjoy the fishing itself – and I love seafood! So, not surprisingly, the seafood stew featured here is my kind of meal. It's an impressive but easy dish that comes together in about 20 minutes. (Click here to see the recipe.)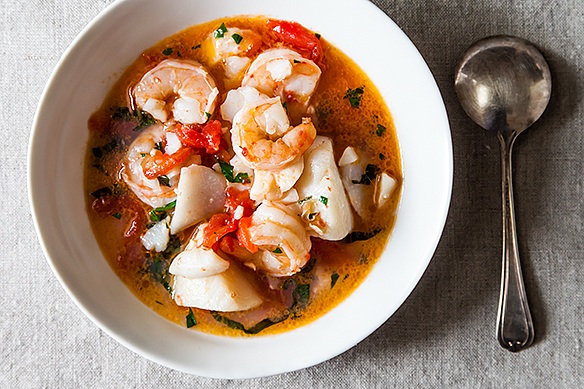 "This stew tastes of the sea – if the sea was delicately perfumed with tomatoes, aromatics, and herbs. Plus, the broth was so good that we drank it on its own," write Amanda Hesser and Merrill Stubbs, co-founders of Food52, where the recipe appeared originally.
To prepare, sauté crushed garlic cloves in extra virgin olive oil over very low heat until fragrant – but not browned. Add tomatoes, seafood stock (or clam juice), and wine and simmer for about 10 minutes. (Click here to see the recipe.)
Next, add a combination of cut up fish filets – snapper, sole, halibut, and cod – along with shrimp and scallops. Simmer the fish and seafood for about five minutes, until just cooked. You want to avoid overcooking.
Toss in chopped parsley and basil – and serve with crusty bread! Personally, I'd also give the dish a final fruity note with a drizzle of our Arbequina.
Bon appétit,
California Olive Ranch Master Miller Bob Singletary