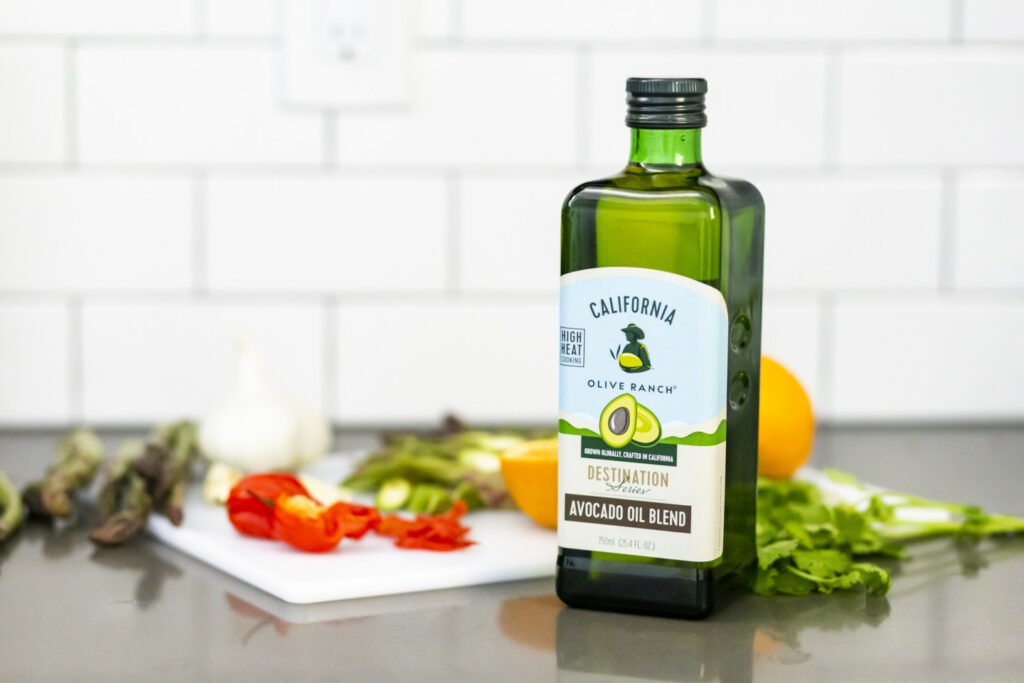 A great meal doesn't have to take all evening to prepare. We've compiled some of our favorite easy weeknight recipes that turn a few simple ingredients into a delicious meal. They all require a bit of high heat cooking, making our Avocado Oil Blend the perfect oil for the job. 
Steak Tacos with Cilantro Radish Salsa
This easy meal is perfect for Taco Tuesday, or any other night of the week. Our Avocado Oil and Extra Virgin Olive Oil Blend is suited specifically for high heat cooking, so turn up the stove and get ready for a delicious dinner in no time.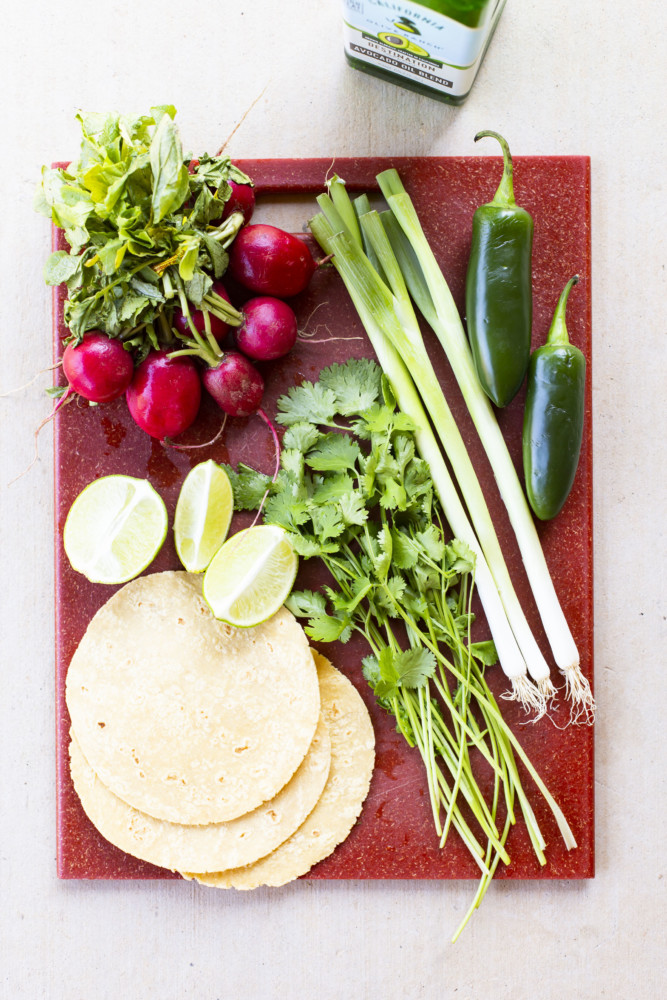 Recipe adapted from Bon Appetit
Ingredients
2 tablespoons extra virgin olive oil (or avocado oil blend), divided

1 pound skirt or flank steak

Kosher salt and freshly ground black pepper

½ cup fresh cilantro leaves with tender stems, divided

4 radishes, trimmed, chopped

2 spring onions or 4 scallions, white and pale-green parts only, thinly sliced

½ serrano chile or jalapeño, seeds removed if desired, finely chopped

2 tablespoons fresh lime juice

8 corn tortillas, warmed

2 oz. queso fresco or Cotija cheese, crumbled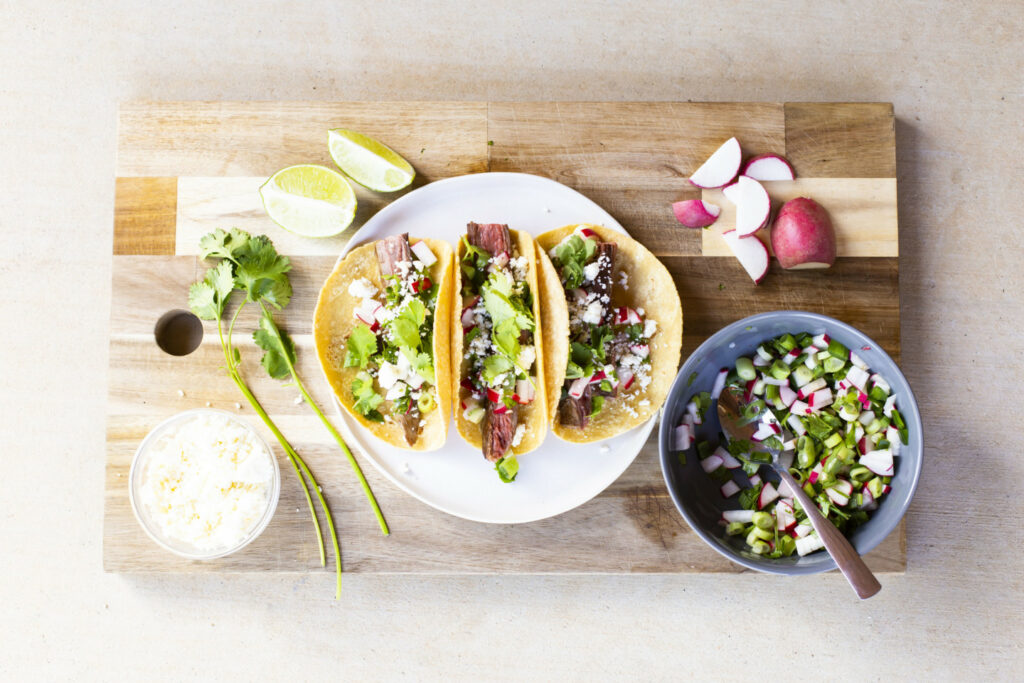 Instructions
Heat 1 Tbsp. extra virgin olive oil (or avocado oil blend) in a large skillet over high heat. Season steak with salt and pepper and cook about 5 minutes per side for medium-rare. Let steak rest 5 minutes.

Meanwhile, chop half of cilantro and toss with radishes, onions, chile, lime juice, and remaining 1 Tbsp. extra virgin olive oil in a medium bowl. Season radish salsa with salt and pepper.

Slice steak and serve on tortillas topped with radish salsa, queso fresco, and remaining cilantro.
One Skillet Chicken Thighs with Harissa
This chicken dish starts on the stove over high heat before moving into the oven to finish cooking. The chicken and veggies are all cooked in the same skillet, making this a relatively easy meal to throw together.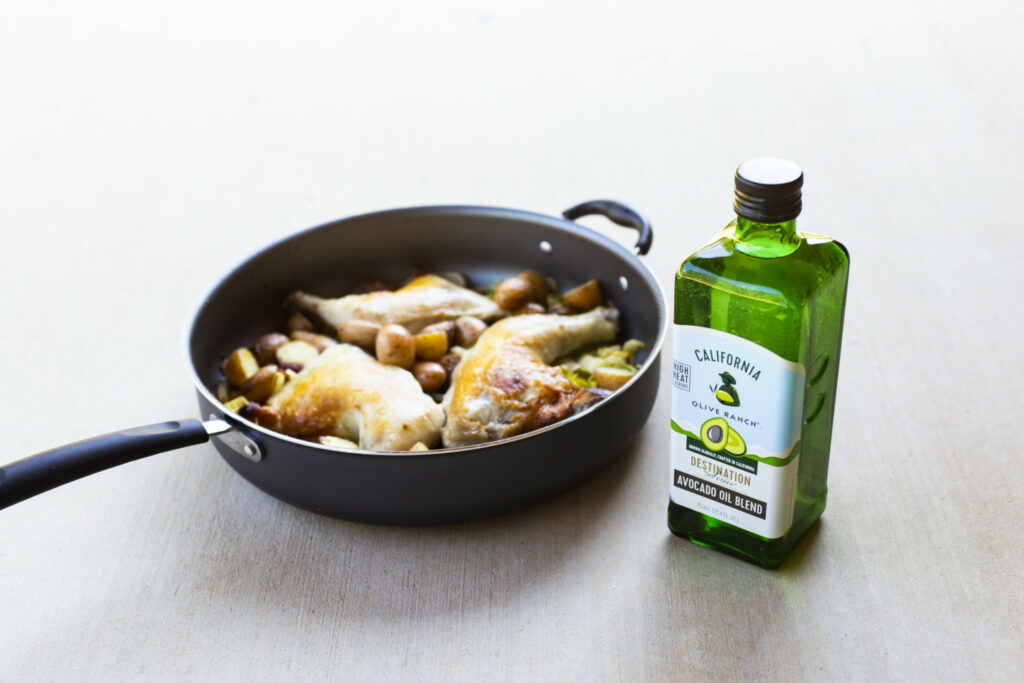 Recipe adapted from Bon Appetit
Ingredients
4 small bone-in, skin-on chicken thighs (about 2 pounds total)

Kosher salt

6 ounces very small potatoes, halved if wider than 1 inch

1 tablespoon mild harissa paste

2 tablespoons extra virgin olive oil (or avocado oil blend), divided

2 medium leeks, halved lengthwise, cleaned, thinly sliced

4 garlic cloves, crushed

1 fennel bulb, very thinly sliced, preferably with a mandoline, divided, fronds reserved for serving

3 tablespoons fresh lemon juice, divided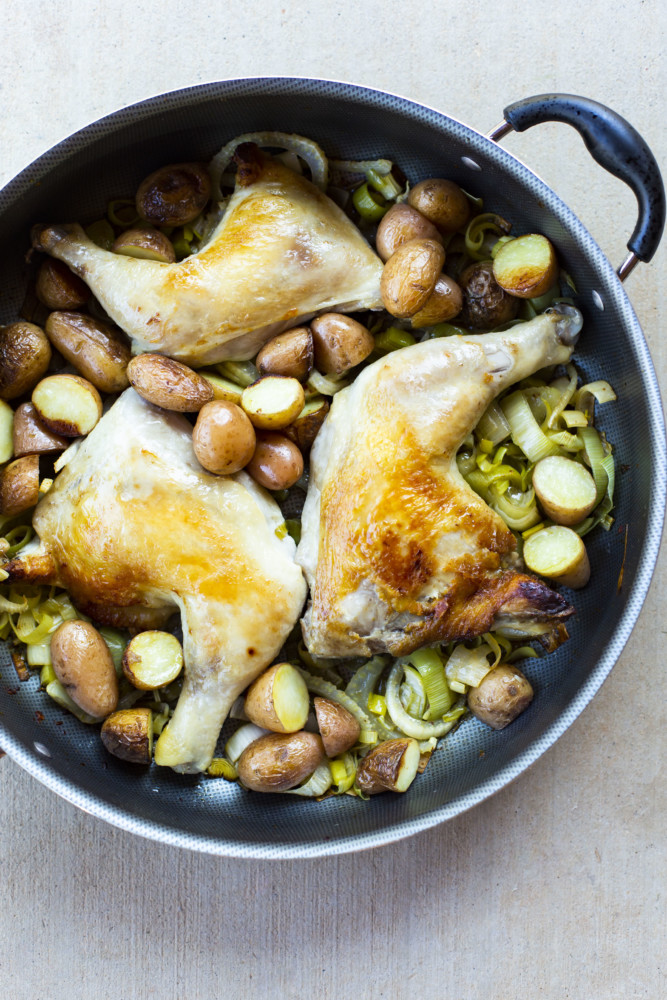 Instructions
Arrange a rack in top third of oven; preheat to 425°. Season chicken with salt and place, skin side down, in a medium cast-iron or other ovenproof skillet. Arrange potatoes around chicken. Heat skillet over medium and cook, without moving chicken but turning potatoes occasionally, until chicken skin is browned, crisp, and releases with just a bit of coaxing from a spatula, 14–16 minutes.

Transfer chicken skin side up and potatoes to a plate, leaving as much fat in skillet as possible. Let skillet cool slightly, then add harissa. Return skillet to medium heat and cook harissa, stirring occasionally, until fragrant and sizzling, about 30 seconds. Pour off harissa schmaltz into a small bowl; set aside.

Heat 1 Tbsp. extra virgin olive oil (or avocado oil blend) in same skillet over medium. Add leeks, garlic, and three-quarters of sliced fennel and cook, covered but stirring occasionally, until softened, 8–10 minutes. Return chicken skin side up and potatoes to skillet. Transfer to oven and roast until chicken is cooked through and juices run clear when pierced with the tip of a paring knife, 10–12 minutes.

Meanwhile, toss 1 Tbsp. lemon juice and remaining sliced fennel and 1 Tbsp. extra virgin olive oil in a small bowl; season with salt. Add remaining 2 Tbsp. lemon juice to reserved harissa schmaltz and stir to combine; season with salt.

Transfer chicken and potatoes to a platter. Top with fennel salad, then fennel fronds. Drizzle with harissa dressing.
Citrusy Asparagus Stir-Fry
The trick to this simple citrusy stir-fry is to get your pan very hot before cooking. When a drop of water sizzles in the pan, you'll know it's ready. Then, cook up all your veggies and don't forget the squeeze of orange juice at the end- it helps brings out the brightness in all the flavors.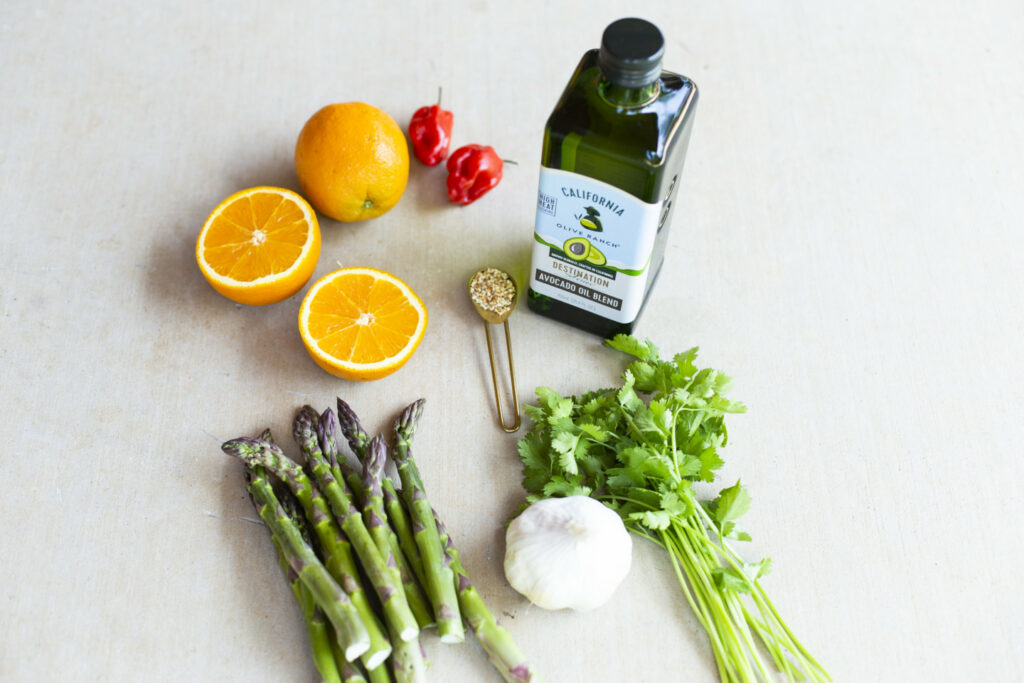 Recipe adapted from Bon Appetit
Ingredients:
1 red chile (such as Fresno or Holland), thinly sliced, seeded if you prefer less heat

2 garlic cloves, thinly sliced

1 Tbsp. extra virgin olive oil (or avocado oil blend)

1 lb. asparagus, trimmed, thinly sliced on a diagonal about ¼" thick

Kosher salt

1 Tbsp. soy sauce

1 Tbsp. unsalted butter, cut into pieces

1 medium orange, halved

½ cup cilantro leaves with tender stems

1 tsp. toasted white sesame seeds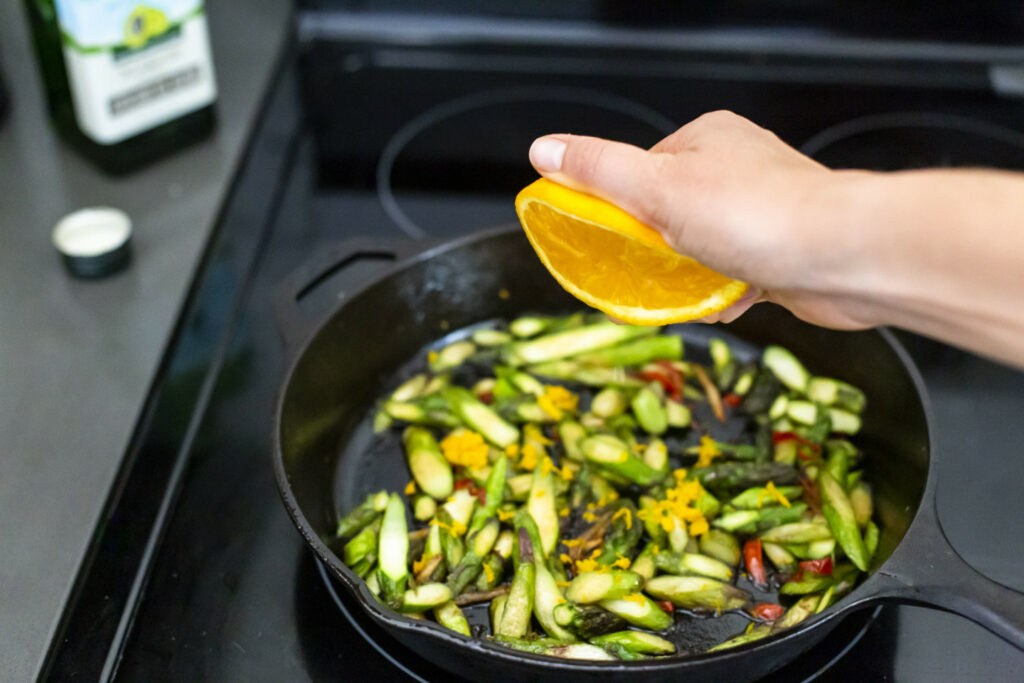 Instructions:
Heat a large skillet over medium-high until hot, 3–5 minutes. Cook chile, garlic, and extra virgin olive oil (or avocado oil blend), stirring constantly, until olive oil starts to shimmer and garlic just begins to turn golden, 60–90 seconds. Immediately add asparagus; season lightly with salt. Cook, tossing occasionally, until asparagus is just beginning to brown around the edges, about 2 minutes. Add soy sauce, butter, and 1 Tbsp. water and cook, tossing constantly, until asparagus is still crispy yet cooked through and coated in sauce, about 30 seconds longer.

Remove pan from heat. Finely grate zest from one-quarter of orange over stir-fry. Squeeze juice from one orange half over and toss once more.

Transfer asparagus mixture to a platter. Top with cilantro and sesame seeds. Taste and squeeze more orange juice over if needed.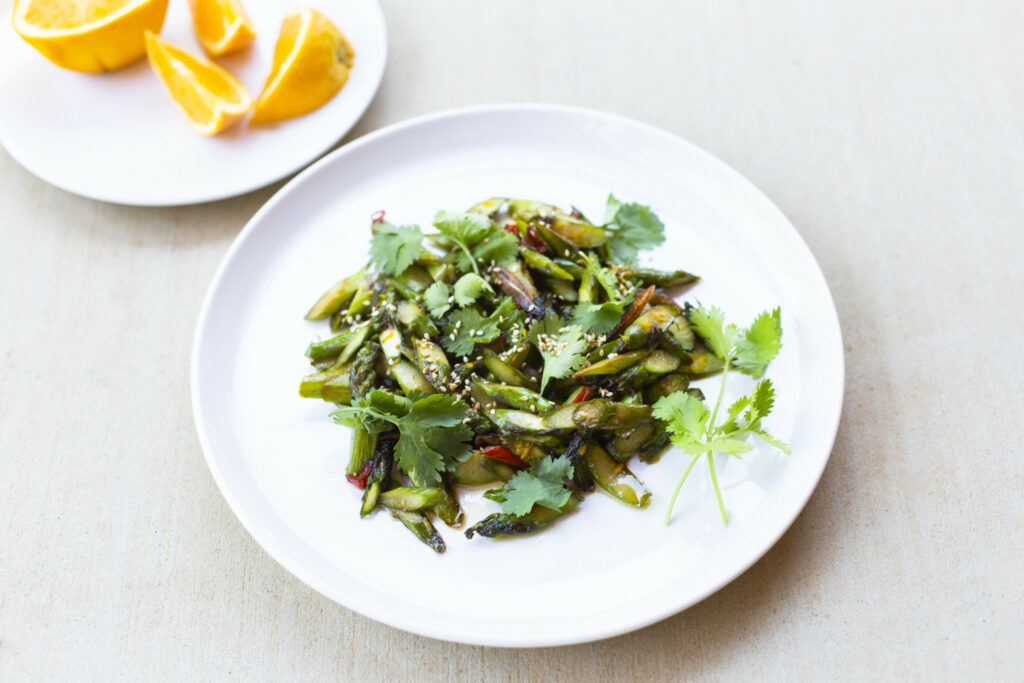 If you make any of these recipes, share them with us on social media by tagging us @CAoliveranch. Enjoy!