Green bean salads can be dreadful: overcooked, mushy, zero flavor. And then there's the green bean salad that makes you return for more. The bean salad featured here falls into that category. (
Click here to see the recipe.
)[caption id align="aligncenter" width="500"]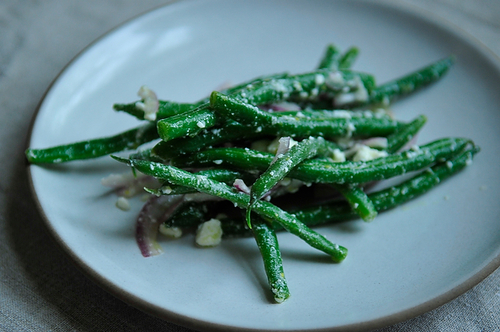 Photo by James Ransom for Food52 http://www.jamesransom.com/[/caption]"This salad, on the surface, seems like one you see at every barbeque - except that this one is more lemony, only gently oniony, fragrant with marjoram and entirely balanced," write Amanda Hesser and Merrill Stubbs, creators of the award-winning food website
Food52
, where this dish was voted "Best String Bean Salad Contest Winner."The secret to this dish? "A dash of agave nectar in the dressing, which sweetens and smoothes the lemon and feta," say Hesser and Stubbs.The dish is easy to prepare. Cook the beans in boiling salted water until al dente. "You want them to snap under your teeth," Hesser and Stubbs write.Drain and rinse the beans in cold water. Mix the dressing by combining fresh lemon juice, zest, extra virgin olive oil and agave nectar. Our
Everyday Fresh or fruity Arbequina oils
would mesh well with this dressing - or try our robust
Miller's Blend
for a peppery note.The beans are combined with thinly sliced red onion, crumbled feta, and fresh marjoram, and then tossed with the dressing.  (
Click here to see the recipe.
)Finally, I love Hesser and Stubbs' last bit of advice: "Chill until those lamp chops come off the grill."Bon appétit,
California Olive Ranch Master Miller Bob Singletary