You may know I enjoy fishing in Mexico – and I love fish. And, of course, I prepare my fish using extra virgin olive oil. Olive oil gives you plenty of options for different types of preparation. Salmon is a case in point. Below are three salmon recipes using extra virgin olive oil. One calls for grilling, another for poaching, and a third for pan roasting.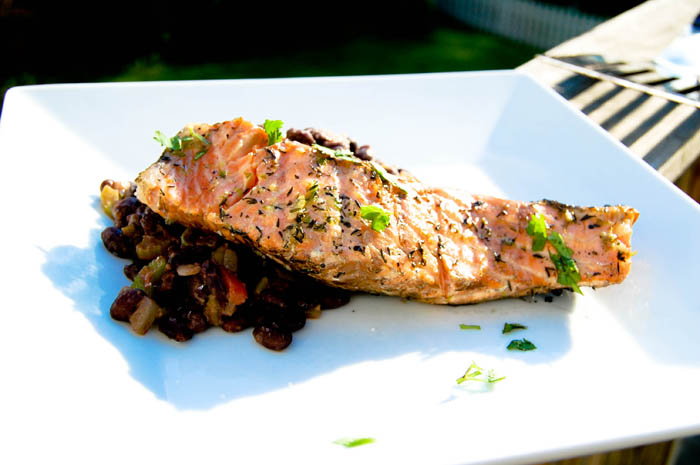 Grilled Salmon with Black Beans
This recipe – from
Food52
- is a tasty, healthy combination of foods. The salmon is marinated in olive oil, pressed garlic, lime peel, thyme (fresh or dried), and salt. Meanwhile, onion, celery, tomatoes, jalapenos, and minced garlic are cooked in olive oil, along with black beans and cumin. (You could let the bean mixture sit for half an hour to meld the flavors.) The marinated salmon is then grilled and served with the beans. You could use our
Everday Fresh oil
for this dish. (
Click here to get the recipe.
)
Salmon Fillet Poached in Olive Oil
Salmon is a perfect fish to poach in extra virgin olive oil. It already tastes great – and poaching it gently in a good olive oil improves the flavor and ensures a succulent texture. This recipe comes from
Paula Wolfert
, who was among the first food gurus in this country to poach salmon and halibut in extra virgin olive oil. The noted cookbook author and food anthropologist recalls years ago visiting the Spanish island of Mallorca, where she watched a chef simmer pieces of fish and shellfish in quarts of olive oil. That encounter helped to bring the cooking concept stateside, where it has become popular. By the way, after you poach the fish you can strain the olive oil and store it in the fridge for later use. Our
Everyday Fresh
is a ideal for poaching. (
Click here to get the recipe.
)
Salmon with Champagne Caper Vinaigrette  
This is a wonderful dish, thanks to the wonderfully flavorful vinaigrette served atop the salmon. It's also easy to make. The salmon is pan roasted and topped with a vinaigrette dressing that combines extra virgin olive oil, champagne vinegar, shallots, lemon juice, and Dijon mustard. Capers and chopped fresh tarragon give this vinaigrette some added zing. Our fruity
Arbequina
is good for vinaigrette. (
Click here to see the recipe.
)Bon appétit,
California Olive Ranch Master Miller Bob Singletary