Around here, a favorite way to cook vegetables is to toss them with extra virgin olive oil and roast them in the oven. A veggie that is especially well suited for such treatment is cauliflower, like in the recipe here. We've found that cauliflower doubters become believers once they've sampled beautifully roasted cauliflower. (
Click here to see featured recipe.
)[caption id align="aligncenter" width="500"]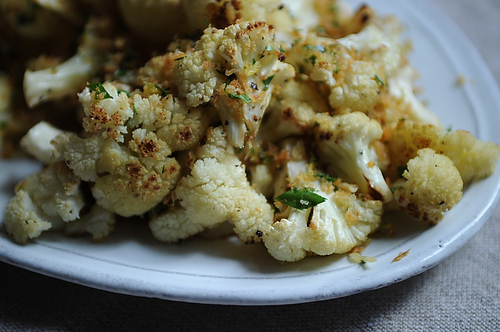 Photo by James Ransom http://www.jamesransom.com/ for Food52[/caption]Roasting brings out cauliflower's sweetness. It also turns this knobby white vegetable into a beautiful caramelized creation. In the recipe here, from the award-winning website
Food52
, the roasted cauliflower is topped with crispy panko bread crumbs combined with  lemon zest, garlic and parsley. (
Click here to see the recipe.
)"The lemon and garlic scented panko add snap and complexity to the sweet, caramelized cauliflower - and together you have a side dish that you could easily double or triple for a large party, and even make ahead," write
Food52
creators Amanda Hesser and Merrill Stubbs.They recommend serving the roasted cauliflower at room temperature, which provides an "added benefit," they note. "If you wait until the cauliflower is cool to sprinkle the bread crumbs on top, they'll stay good and crisp!"Bon appétit,
California Olive Ranch Master Miller Bob Singletary