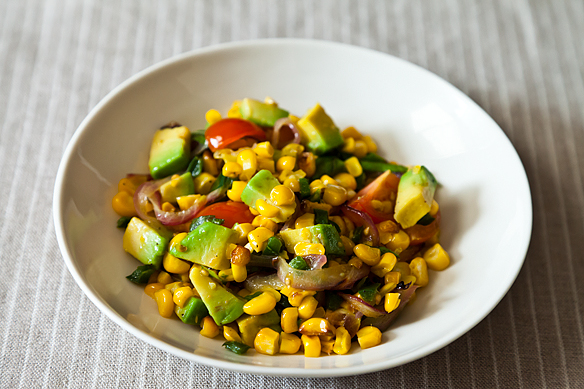 At the height of summer, we're all about capitalizing on the abundance of fresh vegetables and fruits – in this case, corn and cherry tomatoes. In fact, this charred corn and avocado salad is, as one online food wag notes, "summer in a bowl." Lime juice, poblano pepper, and cayenne deliver added zing. (Click here to see recipe.)
Aside from the flavors, another nice thing about this dish is that you can broil the vegetables – often an easier method than the grill. "Using the broiler versus the grill enables you to easily char the corn off the cob and the avocado, poblano and red onion in small pieces, resulting in more surface area to pick up that delicious charred flavor," says "EmilyC," who created this dish for Food52. (The recipe comes courtesy of the food website.)
You can also grill the veggies, if you prefer. In that case, it's recommended you char the corn on the cob and the red onion, poblano, and avocado in large pieces, cutting them to the correct size afterward.
The salad is dressed with a vinaigrette combining lime juice, honey, cayenne, and extra virgin olive oil. For added spice, you could prepare the vinaigrette with our peppery Miller's Blend or Rich & Robust  oils. (Click here to see recipe.)
This salad would be great as a side for grilled meat and seafood. Make extra and bring to the office for lunch – or make it exclusively for work so that you can dine on a gourmet sack lunch.
Bon appétit,
Your Friends at California Olive Ranch