You may be asking: How can I use the tomatoes, corn, zucchini, and other summer vegetables available at the farmer's market or in my backyard plot? Here's one solution:  Make a vegetarian stew.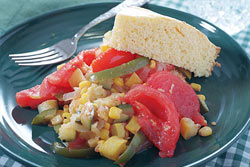 "Although stews are typically winter fare, this old-fashioned combination of fresh vegetables is a light and healthy entrée or side dish," says corporate chef and cooking instructor Karin Calloway, who developed the recipe featured here for Viking Range.
"I like to serve it atop corn bread as the center of a vegetarian meal. However, the medley also makes a great accompaniment to grilled chicken."
This easy-to-make stew combines tomatoes, corn, yellow squash, and zucchini. It takes just minutes to prepare.
The vegetables are sautéed in extra virgin olive oil along with onions. The veggies get a dash of salt and freshly ground pepper.
You can turn up the heat with some cayenne pepper.
Enjoy the dish … and think about ways to cook with the new crop of Autumn vegetables, like winter squash, Brussels sprouts, broccoli, and mushrooms.
Bon appétit,
Claude S. Weiller
Vice President of Sales & Marketing
California Olive Ranch