Here at the ranch we're big on oven-roasting veggies in extra virgin olive oil: Brussels sprouts, root vegetables, cauliflower. Roasting intensifies the flavor. We'll give the veggies a finishing drizzle of oil for added flavor. More recently we began roasting broccoli. It tastes fabulous and is simple. So we were drawn to this easy recipe for roasted broccoli from our friends at Food52. (Click here to see the recipe.)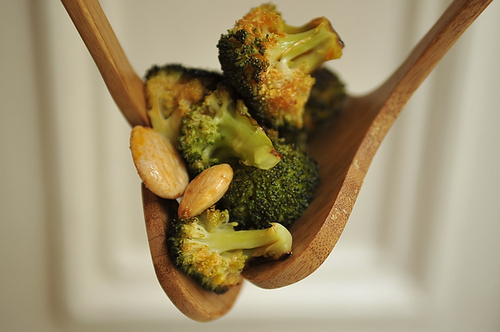 Oven-roasted broccoli is tossed with a musky, balanced vinaigrette made from smoked paprika and garlic-infused extra virgin olive oil. Marocona almonds are a buttery and rich addition to the broccoli.
Amanda Hesser and Merrill Stubbs, the founders of Food52, note this recipe is "both easy enough to make every night and unusual enough to save for special occasions. The smoked paprika and garlic-infused oil contribute an earthy, peppery bite."
Sherry vinegar also is used to make the vinaigrette, which is drizzled over the oven-roasted broccoli and almonds. (Click here to see the recipe.)
Our own peppery Miller's Blend – my favorite oil – would be a good match for making the flavor-packed vinaigrette. (Speaking of olive oil: Don't forget our Taste Guarante. If you don't like the flavor of our olive oil, will buy you another brand!)
In the meantime, crank up the oven and get roasting!
Bon appétit,