The mill is filled with the wonderful smell of ultra-fresh extra virgin olive as we proceed with our olive harvest. That aroma reminds my colleagues and me of Thanksgiving. That's about when we plan to wrap up harvest.  So, not surprisingly, we think of Thanksgiving dishes made with our olive oil. (Click here to see featured recipe.)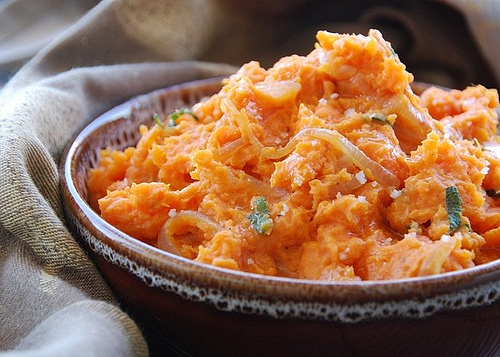 This easy mashed sweet potato recipe – courtesy of the Food52 website – is just the kind of dish I have in mind. It's a sweet and savory dish, combining the sweet potatoes, smoky caramelized onions, and robust sage. It all gets a finishing drizzle of good extra virgin olive oil. Personally, I'd use our robust Limited Reserve oil for a burst of fresh olive flavor.
To prepare, the sweet potatoes are cubed and boiled until tender. Sliced onions, meanwhile, are sautéed in olive oil along with some brown sugar until caramelized. Separately, sliced sage leaves are sautéed in olive oil, too, until crispy. (Click here to see the recipe.)
The cooked sweet potatoes are mashed, and the onions and sage are then added along with coarse sea salt and freshly ground pepper. As a final touch, the sweet potatoes get a good drizzle of olive oil and a sprinkle of sea salt.
Bon appétit,
California Olive Ranch Master Miller Bob Singletary